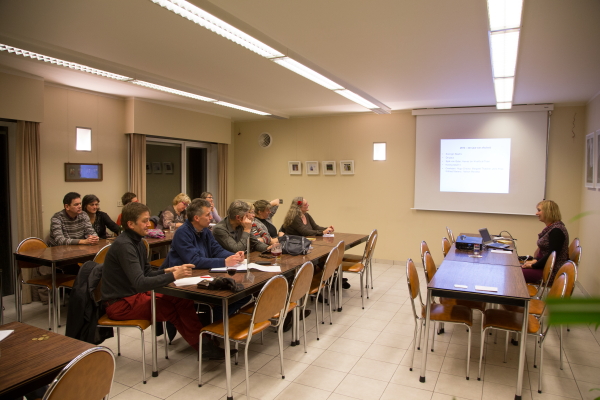 Astrologische evenementen
georganiseerd door Koen & Dragana Van de moortel - Ilić
Naast kursussen organiseren we soms ook losse lezingen, studiebijeenkomsten en symposia.
Iedereen die een beetje basiskennis heeft van astrologie, kan deelnemen.
Reservatie is ten zeerste aangeraden: tel.: 09 227 70 36 of 049 810 86 47, e-mail: dragana.vandemoortel@gmail.com
---
Di. 10/1/2017, 19h30-21h30: Dragana Van de moortel-Ilić: Het jaar 2017
Parochiezaal, Kloosterstraat 18, B-9090 Melle - Bijdrage 14€.
---
Za. 18 & zo. 19/2/2017, 9h30-16h: Matjaž Regovec (SLO):
*PLUTO, THE BREWERY OF THE ALCHEMICAL GOLD AND THE UNDERWORLD JOURNEY*
*URANUS, THE GREAT AWAKENER AND INSTIGATOR OF CHANGE AND FREEDOM OF THE SOUL*
Pluto and Uranus are the two cosmic ambassadors that explain the deeper dimensions of both our inner psychological-spiritual conditions of major growth and transformation, as well as outer circumstances of the most important life changes that happen to us during significant transitions of life.
Pluto can be seen as the very dimension of the underworld journey that explains our transformation from natural to spiritual man or woman. The journey is towards the formation of a deeper, greater, yet flexible and stable new personality of an individual - that of which the alchemical gold is an apt symbol. In the seminar, I am going to show how we can work with the natal position of Pluto in the astrological houses and aspects, as well as with Pluto in transit, in order to understand the alchemical processes that underlie our deeper needs for transformation of our personalities. The shadow aspects of hidden potentials need to be addressed, analyzed and brought to the surface. This is the true meaning of the "hidden riches" - an expression that has been frequently used for Pluto since ancient times.
Uranus on the other hand, is the great cosmic carrier of awareness and new states of consciousness. In the second day of our weekend seminar, we are going to explore how Uranus in the natal chart (its house, aspects, as well as Uranus in transit) can be understood in terms of the call for change, freedom and clarity of spiritual purpose of one's own incarnation. By analyzing the circumstances of some "sudden changes"and "abrupt happenings" we can unveil the messages of our own soul's call for freedom and spiritual purpose in life. The analysis usually reveals change being the only constant in one's life, but we can facilitate it so much better with the help of astrology, our uranian heavenly map of the very spiritual labyrinth of life.
We are going to work with the natal charts of the participants during all the seminar sessions of the weekend, but other birth charts that the participants work on, may as well be included and used as examples to share and discuss within the practical part of the seminar. As the lunch break is relatively short, the participants are advised to bring their own lunch-packages with them, and the food and drinks will be shared with others in the common (seminar) room.
Matjaž Regovec is a qualified Jungian psychoanalyst and analytical psychologist. He undertook his analytic training in Vienna while living and working in Slovenia and is a member of the London based Association of Jungian Analysts (AJA, IAAP), as well as a professional member of the Slovenian Association of Psychotherapists (ZPS). He holds a diploma from the London based Faculty of Astrological Studies, and specialised at the Centre for Psychological Astrology, also in London. In 1993, Matjaž founded IPAL (Institut za psihološko astrologijo in psihoanalizo) – Ljubljana Institute for for Psychological Astrology and Psychoanalysis, of which he is still the managing director. The Institute offers a professional three-year diploma course in counselling, as well as a postgraduate training in psychoanalysis (www.ipal.si). Matjaž has a busy private clinical psychoanalytic practice in Ljubljana. He is working with Jungian analytic self-experiential groups in Ljubljana, Belgrade and Budapest.
Plaats: Rode zaal Gildenhuis, Merelbekestraat 99, 9090 Melle.
Bijdrage: zaterdag 85€; zondag 85€; beide samen 170 160€.
Voor wie? Alle liefhebbers van astrologie (niet alleen studenten van het derde jaar) zijn welkom!
Om de middagpauze zo kort mogelijk te maken, raden we aan om zelf uw boterhammekes mee te brengen. Er zijn weliswaar enkele broodjeszaken & frituren vlak naast de deur.
---
Bij voldoende interesse plannen wij graag nog voordrachten op een weekavond in Melle.
Laat ons iets weten als u op de hoogte wilt blijven. Suggesties ook altijd welkom natuurlijk...
---
Het Gildenhuis, Merelbekestraat 99, 9090 Melle
(Zijstraat van de Brusselsesteenweg: na de autostrade-afrit van Gentbrugge de 2de lichten rechts; 5 minuutjes te voet van Merelbeke-station)


Parochiezaal, Kloosterstraat 18, 9090 Melle
Er is voldoende gratis parking vlakbij en de zaal is toegankelijk voor rolstoelgebruikers.
Vanaf het station van Melle is het 5 minuutjes gaan. De bussen van lijn 20, 27, 28 en 96 stoppen vlakbij.

zaal van Brasserie 't Vosken,
Sint-Baafsplein 19, 9000 Gent (tussen het belfort en de kathedraal, dus zeer gemakkelijk te vinden).
De parking "Reep" is op enkele minuten wandelafstand en daar is normaal altijd plaats. Andere parkings dichtbij: "Vrijdagsmarkt", "Zuid", "Kouter", Sint-Michiels". Het heeft totaal geen zin om een half uur te zoeken naar plaats op straat, je betaalt toch even veel.
Trams en bussen zijn er ook genoeg, bv. tram 1 vanaf het Sint-Pietersstation.

cursussen cursus onderricht opleiding jaaropleiding centrum voor astrologie school astrologie Gent Gentbrugge