LOVE AT FIRST SIGHT...
An investigation into astrology and attraction (Lecture at ISAR - Chicago july 6, 1996)
Keywords: SYNASTRY, ASPECT, SYMPATHY, ATTRACTION, MOON, VENUS, MARS.
1. Motivation
If it is true that we learn the most about ourselves through relationships, because others act as a mirror for our behaviour, then synastry, the astrological study of relationships, is probably the easiest part of astrology to investigate. Some investigators, such as like C.G. Jung and Jan Ruis (Gauquelin married couple collection) have claimed positive results for synastry based on the study of planetary aspects between natal charts. My own personal experience also seemed to support the traditional belief that aspects between the planets in natal charts seem to play an important role in love and relationships.
Two problems with studying synastry in marriages, however, are that marriage data is tedious to collect, and not all couples marry just for love. Marriages are complex, conscious decisions that are influenced by other relationships and a variety of factors. Hence, instead of marriage, I decided to study the moment when all relationships begin, the very first interaction with an unknown person. The world has a great abundance of people who are unknown to each other and it seemed to me, as I think most people would vouch, that we all have some sort of intuitive "sixth sense" to judge someone at first sight. We either like someone or we don't, even without being able to say why. Because we have little or no information about a newly met person, the "astrological information" (if any such information really exists) may thus be dominant.
2. Experimental design
For an experiment to be "scientific" we need to have a well designed protocol to collect the data, and a concrete hypothesis about the results.
2.1. Data gathering
A street where lots of people do their shopping is a good place to find "unknown" people who may be interviewed as participants, so this experiment is confined to these areas.
Selecting only just people who appear to sympathetic or attractive would be one method to choose participants, but this method would require a control group. For example, if there would be a preponderance of Cancer signs (° june 21 - july 21) in the collected group, it would not be possible to determine whether (1) Cancers are more likely to be found shopping than other signs, (2) Cancers are more likely to stop and talk to anyone, (3) Cancers are more likely to stop and talk to our inquirer specifically or (4) there simply exist more Cancers in the world.
To avoid the need for a control group, the inquirer must interview as many different types of people as possible and ask them all the same question. Based upon the short interview and the physical appearance of each participant, the inquirer records a "score" subjective impression for each participant, which ranges in score from -3 to +3 (--- to +++). Table 1 lists the possible scores.
Table 1. Attraction scores.
| | |
| --- | --- |
| --- | "bah, ugly disgusting creature" |
| -- | "very unpleasant/not handsome at all" |
| - | "rather unsympathetic person, not handsome" |
| 0 | "neutral" |
| + | "seems not a bad person, sympathetic" |
| ++ | "really good looking, very friendly" |
| +++ | "Whow, I'd really like to take this one out for dinner tonight!" |
Besides this score, the response to the interview question is recorded, the gender of the participant, and finally the participant's date, time, and place of birth, which is requested at the end of the interview. If the precise birth time is unknown, participants are asked whether it might have been morning, evening,...
The question asked was always "What do you think about astrology?". The question really could be about anything that would enable the inquirer to quickly form an opinion quickly about the participant. To avoid problems like injuries, nothing about the real purpose of the interview was ever mentioned.
2.2. Hypothesis
Based upon my own previous experience with synastry, I assumed the following hypothesis:
Participants with a major aspect by geocentric longitude between their natal Moon and the inquirer's natal Moon will be found to be more attractive to the inquirer. A similar attraction will also be found for major aspects between participant Venus and inquirer Venus as well as between participant Mars and inquirer Mars. For the purposes of this study, we shall refer to these as the "synastry aspects".
An "aspect" is the astrological term for the angular distance between two celestial bodies. The "major" aspects are the conjunction (0°), sextile (60°), square (90°), trine (120°) and opposition (180°). These are the only aspects used in this study. The closeness of an aspect is measured by its "orb". Only those aspects that are within an orb of 6° are used in this study.
3. Results
The experiment was conducted in the summer of 1992 in my home town Gent, Belgium. No other volunteer was available for the study, so all interviews were done by me as the sole inquirer. I managed to interview 369 participants, all of whom were unknown to me. Of these, 275 were female and 94 were male. Most of the participants, 257, knew their birth times within 2 hours. Only this group of 257 was considered for the Moon-Moon aspects hypothesis, because the relatively fast motion of the Moon requires a more accurate birth time.
The birth data and scores were entered into my own astrological software program, called "Radix", which calculates charts and performs statistical analysis. The analysis of all the collected scores yielded an average value (µ) of 0.745, which is on the positive side of attraction, with a standard deviation (s) of 0.96. The female participants were found to be more attractive (µ=0.793, s=1.01) than the male participants (µ=0.596, s=0.79), but that might be caused by other than astrological factors. The variation of the scores was good, although not optimal: a score of -3 never occurred, and -2 occurred only once. Of course it's difficult to detest someone who is at least friendly enough to stop and give you two minutes of his/her time.
The average score of the group with a known birth time was higher, but that is normal, considering they were mostly younger, thus physically better conserved.
Table 2 lists the results of all test participants by synastry aspect. All listed aspects show an average score (µ) on the plus side of attraction, some more so than others.
It also lists the results for participants (male M, female F, and total T) who have at least one synastry aspect to the inquirer's chart compared to participants with no such aspect.
Table 2. Participant scores listed by synastry aspect.


Moon-Moon
Venus-Venus
Mars-Mars

n

µ

s

n

µ

s

n

µ

s

Conjunction
Opposition
Square
Trine
Sextile
13
7
15
17
24
1.308
1.286
1.200
1.118
0.542
0.86
0.95
1.27
0.86
0.88
9
13
28
28
15
0.778
0.923
1.071
0.821
0.467
0.83
1.04
0.94
1.02
0.74
14
15
22
26
20
1.429
0.600
0.773
1.192
0.600
0.85
0.91
0.92
1.13
0.82
major aspect
M
F
T

17
59
76
0.588
1.119
1.000
0.87
1.00
0.99
33
60
93
0.606
0.983
0.849
0.90
0.95
0.94
27
70
97
0.741
0.986
0.918
0.81
1.04
0.99
no major aspect
M
F
T
36
145
181
0.583
0.738
0.707
0.84
0.99
0.96
61
215
276
0.590
0.740
0.707
0.74
1.03
0.97
67
205
272
0.537
0.727
0.680
0.79
1.00
0.95
We see that the attraction scores were higher for the participants with a synastry aspect than for participants with no synastry aspect, as expected! The important question to answer now is whether this finding is just an accidental difference, i.e. an anomaly, or a real effect that supports astrology.
An appropriate statistical test that measures the difference between two samples to determine if they belong to the same or different populations, is the so-called t-test. Applying this test to the group with a Moon-Moon aspect in relation to the group without it, shows that there is a less than 4% chance that these two groups don't really differ. Lower chance means greater significance. This 4% result is generally accepted as a statistically significant result, though in the case of astrology, skeptics tend to require more convincing results than this. The significance for Venus-Venus aspects is only 25%, and for Mars-Mars aspects it is again 4%.
In hindsight, we see that if we had left the sextiles out of the hypothesis, we would have had much better results (0.1, 2 and 1% significance)! But we have to play fair and stick to the hypothesis.
However, some other tools to examine the truth of the hypothesis exist. First we can check how a change in the orb affects the result, and secondly we can see what happens when participants have more than one synastry aspects with the inquirer.
Figure 1 graphs the mean attraction value (mid-point on each vertical bar) versus the orb size (x-axis). To make a global average, an offset value, equal to the average score of those who didn't have the considered aspect within a 12° orb, was substracted. The error flags (vertical bars) represent the measured error on each average plus the intrinsic error on every measurement (0.5 "point"). For example: the attraction score with an orb of 1° is about 0.45 ± 0.3 (confidence interval of 68%).
Figure 1. Attraction versus synastry aspect orb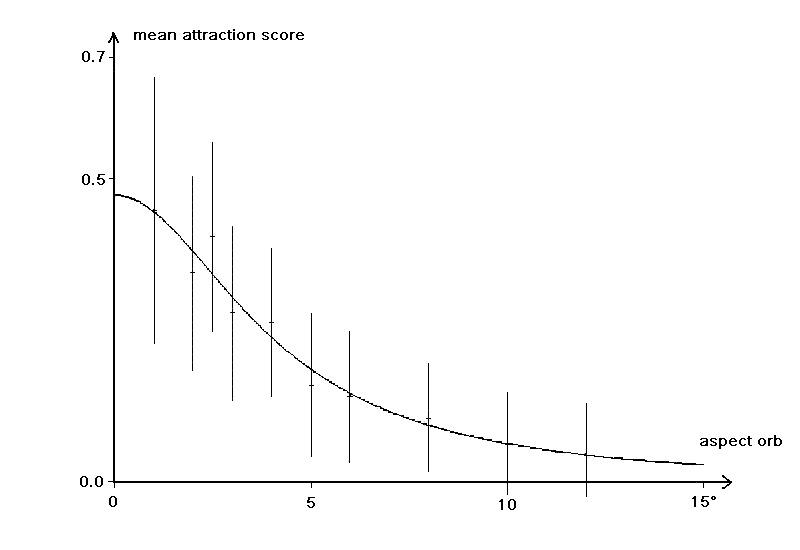 We see that a "Lorentz function" fits nicely trough all of the points, while it would be very difficult to fit a horizontal line trough them, as would be expected by chance. In other words, the narrower the orb, the more pronounced the effect. This functional co-variance definitely supports the hypothesis.
Table 3 shows the mean scores (µ ) for participants having combinations of synastry aspects. For combinations with Moon-Moon aspects only the group with known birth times was used.


Table 3. Mean attraction values by number of synastry aspects.


Venus-Venus
and
Mars-Mars
Moon-Moon
and
Venus-Venus
Moon-Moon
and
Mars-Mars
Both synastry aspects
µ = 1.045
n = 22
s = 1.00
µ = 0.941
n = 17
s = 0.97
µ = 1.050
n = 20
s = 1.05
Just one of the synastry aspects
µ = 0.836
n = 146
s = 0.95
µ = 0.933
n = 105
s = 0.99
µ = 0.963
n = 127
s = 0.97
Neither of the synastry aspects
µ = 0.642
n = 201
s = 0.96
µ = 0.667
n = 135
s = 0.95
µ = 0.615
n = 130
s = 0.94
No synastry aspects
µ = 0.585
n = 94
s = 0.94
What we get with this analysis is, again, in keeping with the hypothesis. More than one synastry aspect increases the attraction value (µ = about 1 for each of the "Both" groups) whereas a complete lack of synastry aspects yields the lowest attraction (µ=0.585). In fact, if we compare this latter value with the averages from the table 2 (one or more aspects), the significance levels become 1%, 5% and 2% (using again the t-test but with 0.585 as the reference value)!
4. Conclusion
The hypothesis that there is a relation between synastry aspects and attraction or sympathy, appears to be confirmed. The data shows several consistent patterns that allow us to estimate the level of significance in the order of 5% or better, meaning that there is around 5% possibility that there is no relationship between synastry aspects and attraction. The strength (orb) of a synastry appears to be very important, and also the number of simultaneous synastry aspects.
5. Remarks
In case of a replication, several improvements to the hypothesis and data gathering can be made.
The hypothesis could be fine tuned by excluding the sextile aspect, which did not contribute to the positive result at all.
As the results were more pronounced for participants of the opposite sex, it would be wise not to collect data from the same sex anymore (or better stated: use the preferred sex only).
Giving two separate scores, one for sympathy/antipathy and one for physical attraction, might increase the value of this research.
Suppose the inquirer has a Venus-Mars conjunction. In that case, it would be impossible to determine whether, for example, it is a Moon-Venus or a Moon-Mars synastry aspect that causes attraction. Therefore, having several inquirers to judge smaller groups would be more interesting than one inquirer to judge a large group. (Effects of natal aspects of each particular inquirer would tend to dissappear the more inquirers are involved.) The ideal situation would be to have a group of unknown people judge one another. The sample size would also increase dramatically. For example, a group of 30 people would yield 30 x 29 = 870 judgments!
Skeptics have told me the results could be biased because it was the same person who both interviewed and asked the birth data. That would probably be true if the position of the sun was involved in the hypothesis, because it is relatively easy to track a person's sun sign by the birth date, but it is an enormous task to memorize the ephemeris tables of the other celestial bodies! Nevertheless, it would be better if the inquiries were done by someone with no astrological or astronomical knowledge. Related to this last point, I do not think it would be a good idea to have two different people to do the interview and ask for the birth data because some "intimate" atmosphere needs to be created to sense the participant's vibe without interference from the presence of another person.
Volunteers who want to do a replication are very welcome to contact me!
Koen Van de moortel, june 1996 (revision 2009 04 25)
Thanks to Ken McRichie for revising this text.